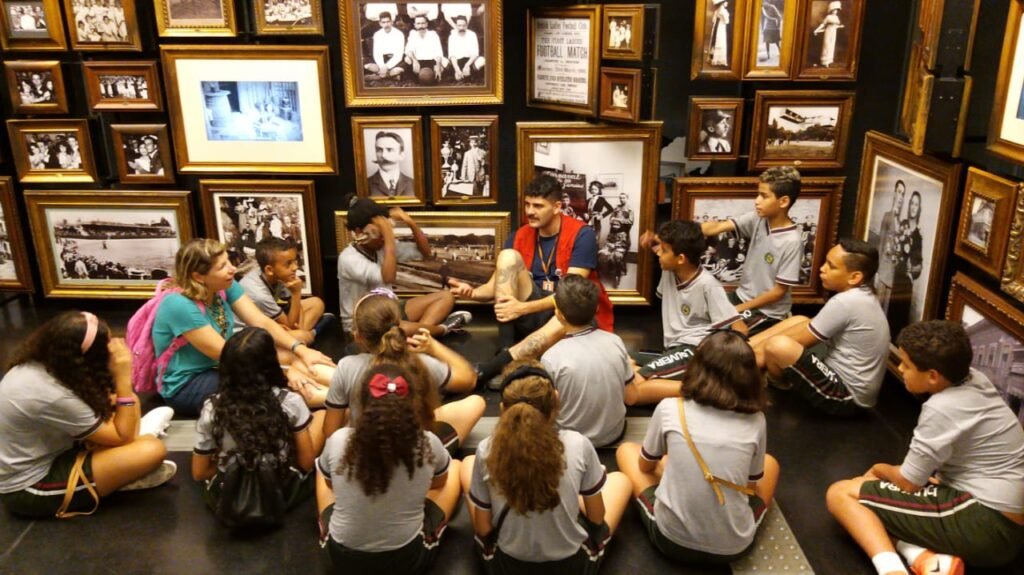 Group of children sitting on the floor of a room filled with black and white pictures. They listen to a young man in a red vest, museum educator, who is also sitting on the floor.
The purpose of the Educational Program of the Football Museum is to welcome and educate visitors, contribute to the development of knowledge, spark sensibilities, and enable the inclusion of all audiences.
The team counts on professionals from multidisciplinary backgrounds who are responsible for crating and developing recreational-pedagogical resources to allow establishing a dialog with the audience and mediation with the collection of the Football Museum. The activities propose reflections and spark curiosity, in order to crate an unique and pleasant experience for the visitors.
The Center is also responsible for functional awareness measures and social inclusion projects.
Educational visits
The Educational Program consists of scheduled visits with school and institution groups, from Tuesday to Friday, and spontaneous visits with public on Saturdays and Sundays.
Educational Content
One of the works of the Educational Center includes the development of exclusive games for both the Football Museum and Internet. We have a website with most of this material. To access, click here (in portuguese).