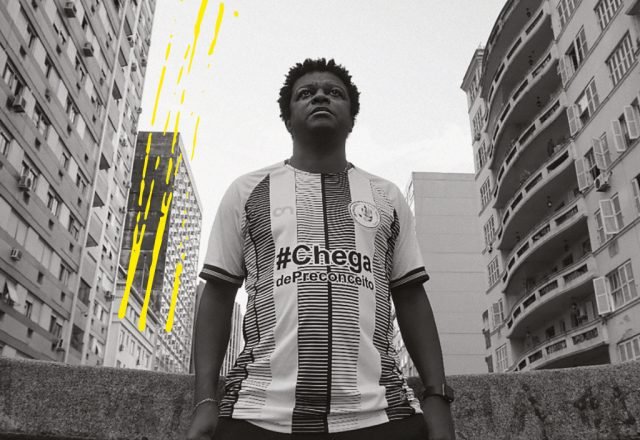 In the imagination of many poor black boys and girls chasing a ball in some street, alley or dirt field is the dream of one day becoming a football player, of being little Pelé or Marta. Scoring a goal in the championship finals, being idolized and giving your mother a better life. In the imagination of thousands of boys and girls, fame will appease racism and money will take away all the pain in the world.
In the imagination, the pain caused by hunger, skin color and the complete absence of the state to give a decent life to the poorest and most vulnerable population will disappear when the dream of being a football player is fulfilled.
The bitterness and difficulty of making the dream come true will be overcome with the body swing, with the smile of someone who transforms a sock ball into a professional ball. After all, on the wall of your grandmother's living room there is an image of a multichampion team formed by white and black players, by men of different features.  The stories of that superteam feature heroes who won everything and got there.
The reality of racism that shows when, on a bus trip, someone hides their bag, or gets up to not have black boy sitting near will be in the past when fame arrives. It will be only a recollection once the money starts to accumulate in the bank account. Then the bus will be replaced by the newest super car. The half-finished house replaced by a super mansion with a swimming pool.  Discrimination on account of their color or social origins will be in the past.
But that reality will never come.
SKIN COLOR WILL ALWAYS BE REMEMBERED WHEN LOOKING FOR A HOUSE, A JOB, A SCHOOL, A CLUB.
Skin color will not be forgotten even if the dream of becoming a professional football player arrives. Not even with fame or the winning goal that grants the title. The skin color will be remembered when someone shouts "get this monkey" from the grandstands.
The black skin will be remembered when there is a mistake, or an alleged mistake, even when it is not what the fan expected. He will discover throughout his life that football has never fully accepted him and that in a first failure they will try to dehumanize him.
When he hears a racist yell, he will look at the judge and will not find an ally, who will neither be in the reserve bench, nor even in the gallery where the managers sit. The dream that money and fame will hide their blackness will become a nightmare, a naked reality that will present itself unexpectedly and may even show in a teammate or a work colleague who plays in the opposing team.
Maybe there will be a thousand microphones facing his direction, questioning what is he going to do after suffering the violence of racism, he's going to get some pats on the back in support, but he's going to discover in the most painful way that that is a fight of his own. Perhaps his and his pillow's in the still of the night, where tears of sadness will be shed privately.
Everything he ever imagined about football will end as cruelly as possible. So it is and has always been. Football has never fully accepted the presence of black men and women. Football did not welcome these dark bodies in the fight against racism. They were accepted for the skills, for the possibility of victories and titles.
Racism cases have been usual since football arrived in Brazil, and it was much worse when no blacks were allowed to enter the field. It became an example of Brazilian racial democracy when football became popular and idolized black men. But it is important to remember that such racial democracy was nothing more than a myth.
But it was cruel when it didn't take those with dark skin to the national team. It was cruel when it silenced and did not defend who was insulted and it was completely inhumane when it sentenced a black man to life imprisonment after a defeat.
FOOTBALL GIVES US THE JOY OF VICTORY AND THE PAIN OF DEFEAT AND, FOR A FEW YEARS NOW, IT HAS BEEN GIVING US THE POSSIBILITY OF TRANSFORMING THE MOST POPULAR SPORT ON THE PLANET INTO A RESISTANCE SPACE.
The Observatory of Racial Discrimination in Football helped Brazil, its clubs, directors and entities to transform their spaces into a possibility of communication with their fanbases, a possibility of using their large visibility to discuss structural and recreational racism.
Football is far from being the space in which black boys and girls dream, but an important step has been taken and today the debate is gaining more and more presence. It has won the fields, greatstands, press conferences and now the Football Museum.
Long live the Observatory of Racial Discrimination in Football. Long live those who dream of transforming the world into a better place.
Marcelo Medeiros Carvalho
Observatory of Racial Discrimination in Football