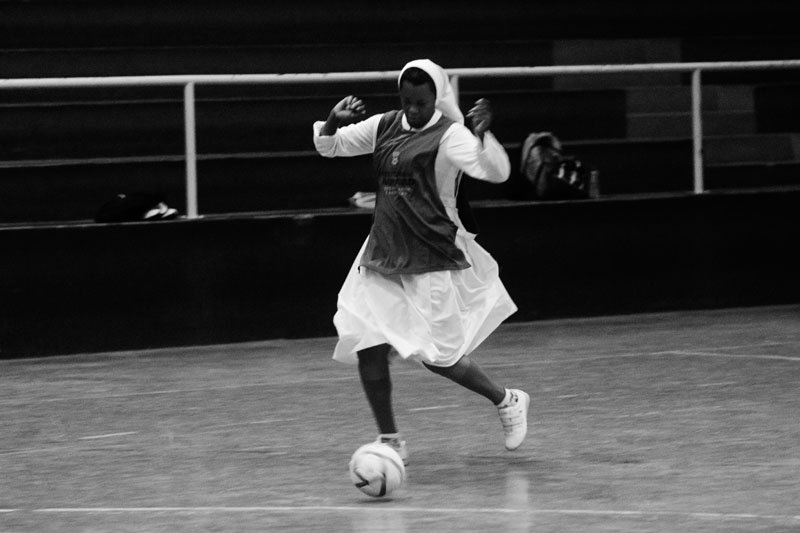 Few images could provide a more striking commemoration of International Women's Day 2021 than "Nun playing football for Santa Marcelina Hospital staff team", by photojournalist Eliária Andrade.
At first sight, the image would appear to contradict received opinion regarding the type of women who can play football and what they should wear. The nun is playing in her habit, and, contrary to what one might imagine, this style of dress appears in no way to restrict her movements. Her skirt, though long, seems to accompany the act of kicking, while her veil surrounds her face like a frame, as she concentrates on the ball.
The vest worn over her habit identifies her as a member of the Santa Marcelina Hospital staff team. Like most women who are involved in sports, she has to play football outside of working hours, at weekends or in the evening. This was the case one Tuesday night in October 2012, when the nuns scheduled a fixture against the engineers, kitchen staff and nurses working on the construction of the Corinthians Arena.
Juggling sport with housework and caregiver duties, playing football is a way of making use of the leisure and recreation time that thousands of women won the right to in the course of the 20th century. We should not forget that International Women's Day is a day on which we are invited to remember these struggles.
However, in addition to being a nun and a worker, this player is also a black woman. For this reason, the image is even more highly charged, alluding to the central role played by black bodies in the history and culture of women and of football in Brazil. Eliária Andrade's image captures the essence of this woman perfectly: the speed, agility, accuracy, grace and lightness of touch that only star players possess.
The photograph went on display in 2015 as part of the temporary exhibition "Women who master the ball?" featuring images captured by 11 women photographers of women playing various kinds of football from all parts of Brazil. See the full series of images in our Data Bank.
Diana Mendes
Coordinator of the Football Museum Reference Center