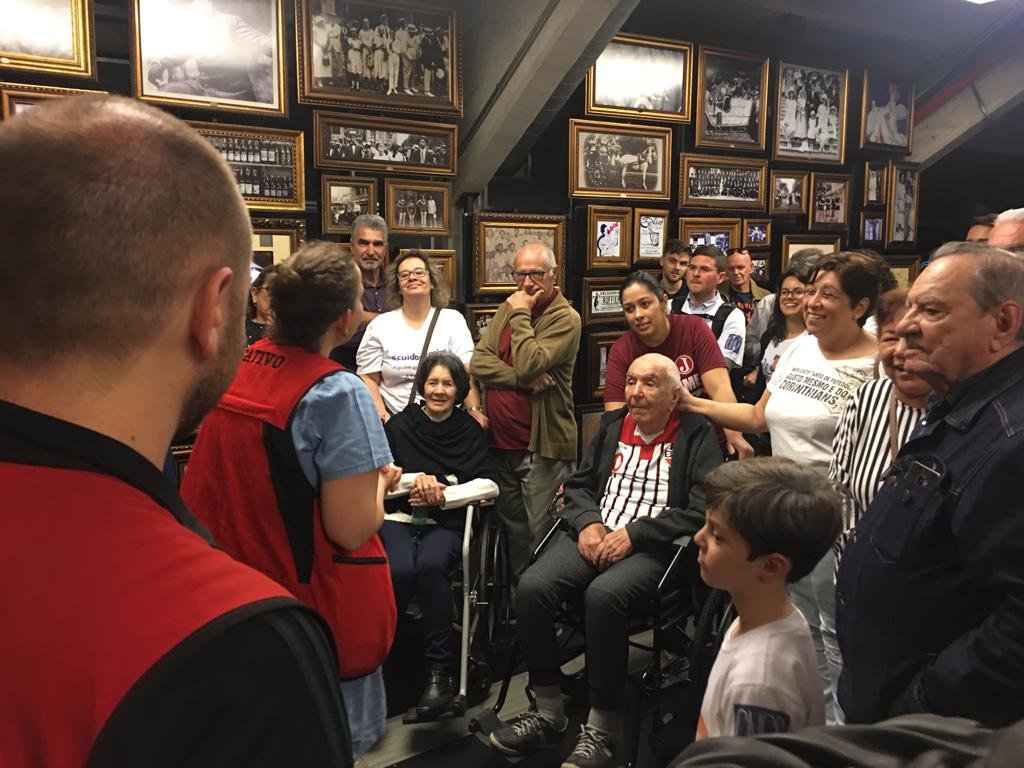 By means of a partnership with the Cognitive and Behavior Neurology Group of Hospital das Clínicas in São Paulo, the Football Museum has maintained the Reliving Memories project since 2019, promoting special services to people with Alzheimer's Disease and their families. By means of mediated visits and group activities held by the Educational Center, the patients are encouraged to activate affective memories related to the universe of football, and socialize in the Museum.
Alzheimer is a progressive neurodegenerative disease that attacks memory and causes behavioral changes, leading up to the inability of performing small daily activities in the most advanced forms. The causes are still unknown and there is no cure, which turns the interaction between the patient and relatives into a challenge. Activating the memory and maintaining a social life are some of the known ways of improving the quality of life of the people affected by the disease.
Reliving Memories #AtHome
With the outbreak of the new coronavirus and the need to keep the elders isolated, the Football Museum followed-up with the Reliving Memories project by means of telephone calls and video conferences. Now, the project serves a broader audience, including elders not suffering from Alzheimer and social institutions that provide services to people in vulnerable situations.
The conversations of Reliving Memories #AtHome take place from Tuesday to Friday, from 10:00 AM to 11:00 AM and from 3:00 PM to 4:00 PM. On Tuesdays and Thursdays, the service is individual; ON Wednesdays and Fridays, the service is provided to nursing homes and social entities.  To participate, schedule in advance.
HOW TO SCHEDULE?
Preferably, schedule by email at agendamento@museudofutebol.org.br. The applicant – who may be the elder himself or carer – must indicate the day and time of preference and means of communication desired (phone, Skype, Hangout, or another tool).
In case of entities, inform the profile of the public and the number of people who shall participate in the activity. The Museum shall contact the applicants for due confirmation. If you cannot send an email, bookings can also made by phone (11) 99113-0226, from Monday to Friday, 9:00 AM to 12:00 PM.